from harvest ...
we hand pick officinal herbs that grow naturally in the unpolluted area of the Maremma hills (yarrow, burdock, ivy, hypericum, helichrysum, nettle, horsetail, ash ...),and the herbs we lovingly grow organically on our land (lavender, rue, mint, sage ...). Harvesting is done carefully during the balsamic period, the time of the year and day when the active ingredients of the plants are more present: May serene mornings, warm sunsets in July, dry and windy autumn days.
to processing ...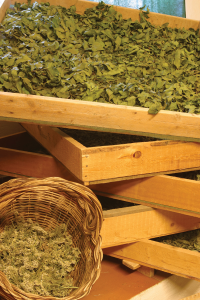 in the bright and clear space in our laboratory we proceed working with plant racolte: herbs are crushed, shredded, put to macerate in alcohol, oil, distilled, or naturally dried, to create teas, tinctures, oils, creams, essential oils, glycerin macerates, aromatic waters for personal wellness and beauty
and manufacture ...
In our research we combine precious ancient knowledge, acquisitions of modern technology, experience gained over thirty years activity in this field, creativity and sensitivity to customers needs. We create syrups, mixtures of healing herbs, tinctures compositions, ointments, creams and oils with Mediterranean fragrances and incomparable action, guaranteed by the high percentage of herbs in each product.